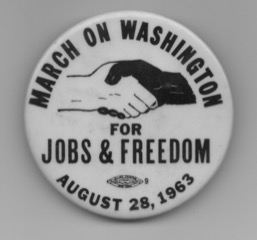 Perhaps such as you, on my journey in the direction of readability, there have been moments in my life the place battle and hassle appeared to soften away, leaving nothing however a shiny constellation of previously damaged items in alignment: generally magical, generally comical, at all times profound. 
There was a singular occasion that occurred in my early teenagers when this expertise occurred and have become a North Star for my life. I used to be not alone. The identical event impacted tens of millions of others who bore witness to the spectacle: now etched within the historical past of our progress as a individuals –– merely known as The March on Washington.  
Racism. The phrase itself appears bitter on the tongue. Whilst a baby, rising up in a progressive family, I might really feel my abdomen tighten when the topic got here up…an instinctual outrage erupting over the cruelty and injustice to our black brothers and sisters –– instigated by a toxic gene in our nation's DNA.
These horrors have been mentioned incessantly with my household on the dinner desk. Significantly with my activist mom who, regardless of being a sort and compassionate lady, was privately a soul stricken by deep depressions who had misplaced the capability for hope.
However then it grew to become 1963 –– that second in time when the cultural Tsunami of the '60s was starting to take form –– gaining conviction because it crossed the globe, invading nations, disrupting the rigorously mapped blueprints for lives of quiet desperation.
This name for change got here to me through books, music and Jap thought. In wave after wave of latest views, it pounded towards the skinny shell of my white middle-class childhood, demanding one thing new and totally different; an exercise, a way of thinking…however remained formless till lastly crystalizing right into a single goal: be part of The March On Washington. 
On August twenty eighth, 1963 I did so.
Early that morning, a good friend and I made the lengthy journey from New Haven to DC. I didn't inform my mother and father I used to be going. I merely made up a shore story… and went. My reasoning was easy and telling. I wished to keep away from my mom's negativity tainting my expertise. 
I attempted brushing apart my guilt for this as I boarded the bus. Nevertheless it accompanied me all through the lengthy bumpy trip.
A lot of the element and circumstance have fled from reminiscence. However what thundered throughout my world was the superior incontrovertible fact that I used to be there! I had arrived! I used to be in Washington DC, taking a stand with brothers and sisters. Metaphorically talking, I used to be becoming a member of a march that I had been a part of, ever because the day I discovered find out how to stroll.
Stepping down from the bus, I used to be instantly caught up within the jubilations of a kindred trigger…the sight and sound of 1000's and 1000's of people flooding the Nationwide Mall…a pilgrimage transcending private agendas to face shoulder to shoulder with full strangers….streaming down hills, stepping throughout roads to assemble in solidarity earlier than a small stage cluttered with microphones and officers –– all overseen by the watchful eye of the Lincoln Memorial. 
And there we have been. Carrying banners, singing gospels and folksongs with purposeful pleasure that unfold throughout this range of the human spirit …swollen with this second of unity. 
Thereafter, the inspiration rained down… talks by John Lewis and Roy Wilkins, performances by Mahalia Jackson, Marian Anderson, Peter, Paul & Mary, Bob Dylan and Joan Baez …to call just a few. All setting the stage in emotional crescendo, to introduce me to the person who would develop into mentor and hero…the Rev. Martin Luther King. It was right here that he gave his "I've a dream" speech…solidifying his that means for this second in time; that might echo his messages to us for generations to return. I listened with my coronary heart as he guided us via his imaginative and prescient, his dedication to peace and brotherhood…and his name from the mountain prime…free ultimately, free ultimately!
It was an epiphany for me…the puzzle had known as its items, letting my interior, troubled fragments settle into one thing complete and lit. 
Someplace, throughout this second, I noticed a lady, sitting alone beside the Reflecting Pool, looking on the Washington Monument. Someway acquainted? Stepping nearer, I acknowledged and approached. Standing behind her, smiling with tears in my eyes, I reached round my mom's skinny body, and cupped her eyes with my palms. In a shaky voice I mentioned,…"Guess who?"
She didn't should guess, With no phrase, she reached out to the touch my hand together with her hand…a mom's tenderness, then turned sideways to catch my eye. The look that handed between us over a half century in the past continues to be touring inside me now as I write these phrases.